Christmas Card from Jan Stofa in Jasenov, Slovakia.
Received 24 December 1998.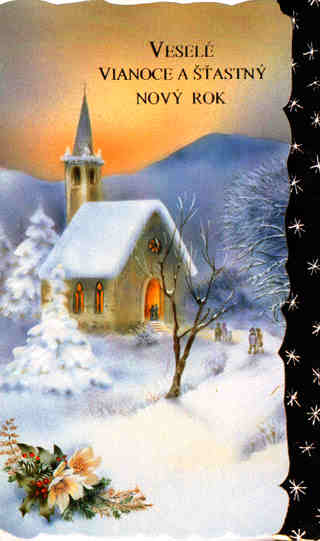 Inside the card was written (translation):
Radostne~ Prez~itie
(Happy living)
Vianoc~nyc~h sviatkov
(in the Christmas holy period)
vel~a s~tast~ia v nonom
(Much good fortune in)
roku va~m praje
(the new year)
Ja~n Stofa
Srodinov
(and family)
Da~kujeme za vianoc~ny~
(Thank you for the Christmas)
prozdrav a fotografiv
(greetings and photograph)
Jan STOFA was born in 1935. Jan is married to Maria MOLOKHCOVA. They have three children Jozef, Maria and Martin.
You are visitor

This page was last updated on 12/30/98.